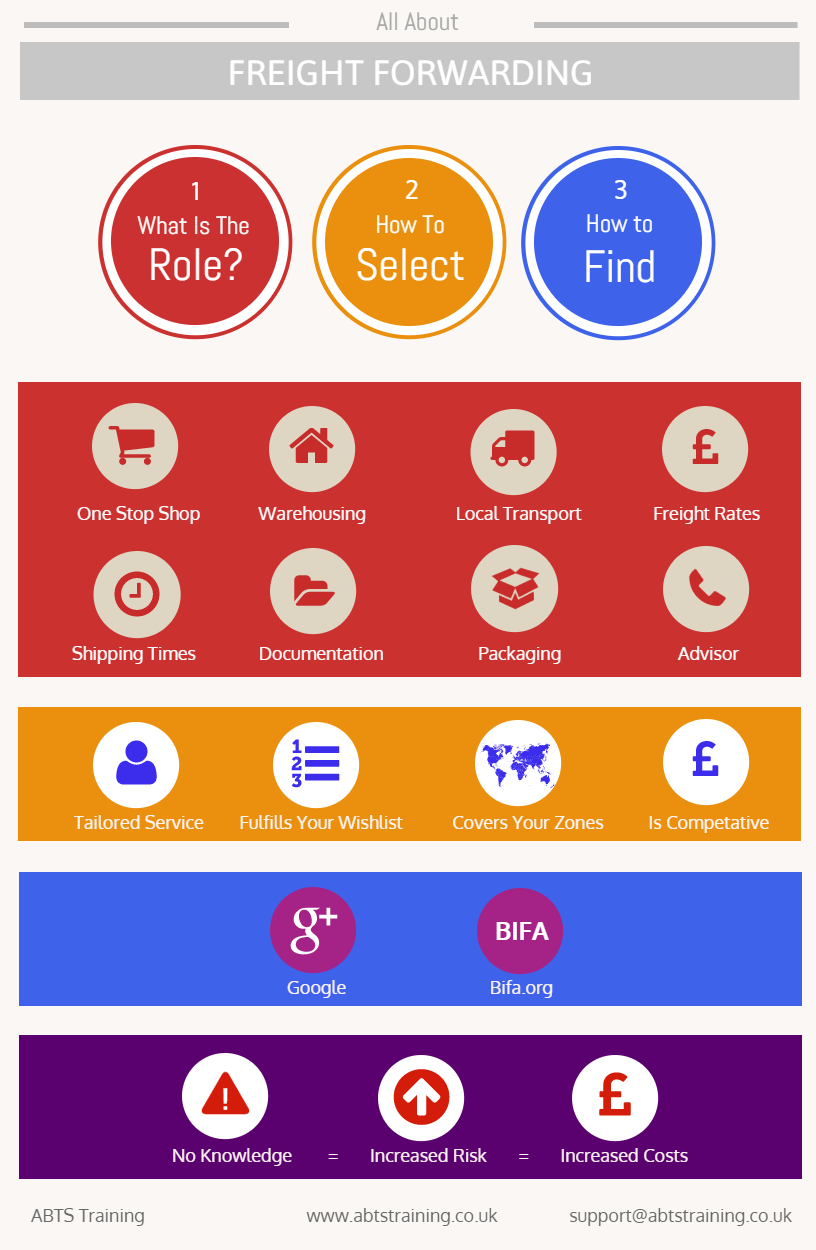 There are three main questions to be answered about freight forwarders:
What is the role of a freight forwarder?
How do I select a freight forwarder?
How do I find a freight forwarder?
I ran my own freight forwarding company for many years so I am well qualified to answer all three of these questions.
What is the role of a Freight Forwarder?
When you're exporting, you must acquire the knowledge of how to obtain such things as a competitive freight rate, book freight for shipping, complete export documentation such as an export entry, Certificates of Origin, Bills of Lading and the list goes on and on.
Some companies and individual traders have this depth of knowledge and go it alone, most however, opt for the services of a freight forwarder. A freight forwarder will undertake the above tasks and also offer other services such as export packing, warehousing and local transport. They become your unpaid adviser.
For example, you can call them and ask them:
When is the next vessel sailing for your destination.
How much is it to ship a FCL to Shanghai.
What is the air freight rate for 40 kilos to Hong Kong and so on.
The advantage of using a freight forwarder is they are a one stop shop.
One phone call or email to your freight forwarder answers all your questions.
You get a lot of free advice as you only pay them when they undertake an export consignment for you.
The big disadvantage of completely relying on a freight forwarder is that SOME freight forwarders can take advantage of the fact that you have little or no knowledge of exporting and charge you accordingly.
I stress only SOME as the vast majority of forwarders are very professional and eager to help you. It goes without saying that a forwarder has to make an honest profit, which is very different to ripping you off.
My advise to you is by all means use the services of a freight forwarder BUT understand export procedures, have a working knowledge of freight rate structures and the real cost of producing export documentation. Once you know these facts you can work successfully with your freight forwarder.
Here's a real life example of a exporter that joined our training course, who handed over all their exports to a freight forwarder.
The exporter had little or no knowledge of freight rates and left it up to the forwarder to arrange their air freight for them. This particular forwarder was aware of the exporters lack of knowledge and as a result charged £7.06 per Kilo while a commercial rate was £2.60 per kilo!
I give this example to emphasise the point that you should have a working knowledge of exporting and not to insinuate that all freight forwarders will overcharge the innocent. As I mentioned above I was a successful freight forwarder for many years without overcharging my clients. All my colleagues in the freight forwarding business gave a good service for a fair price.
How do I select a Freight Forwarder?
I have a very simple rule. Make sure that the freight forwarder can give you the service YOU require not what they WANT to give you.
Again, here is an example of what I mean.
On questioning a freight forwarder on their services, they tell you how strong they are in sea and airfreight to South America and Australia and that they can offer you very competitive rates to these destinations. However if your market is the Middle East, this is not a well fitting partnership.
Before discussing business with a freight forwarder, you should make out what a WISH LIST. A wish list is a list showing the level of service YOU require from a freight forwarder. Here is an example:
Can you offer UK collection from my local suppliers (here name your suppliers address)? If so please quote.
Can you offer competitive air freight rates f rom UK to (your destination)? If so please quote up to 1000kgs.
Can you offer competitive rates FCL/LCL rates to (your destination)? If so please quote.
Please quote to prepare the following documentation: Bills of Lading, Certificates of Origin etc.
Can you offer local warehousing and export packing? Please quote.
Please name the contact person responsible for servicing my account.
What are your terms of payment?
I require a copy of your trading terms and conditions.
The above is just indicative of questions you should ask in order to get the service YOU require for your particular exports.
How do I find a Freight Forwarder?
This is an easy answer thanks to all those lovely search engines available.
Just type in "freight forwarding in (here mention you town or city)" and you will be swamped with local contacts.
You can also check the BIFA website (www.bifa.org) and they will supply you with a list of all Freight Forwarders who are members of BIFA .
If you want to go it alone or use the services of a freight forwarder, either way you need to understand the business
Our on line International Trade course will explain to you in detail and all you have to know about importing and exporting to trade successfully internationally.