(Last Updated On: 04/02/2022)
Britain is a country of innovation and excellent quality products. There's so many incredible exports the United Kingdom has to offer that the opportunities are literally endless.
"Can Do"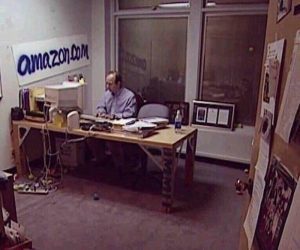 I'm a big believer in the "can do" mentality. Elon Musk, Jeff Bezos, Warren Buffet, Bill Gates and Walt Disney all started with an idea. They took that idea, believed in it and never stopped running with it. Here's a reality check, the photo on the left was Jeff Bezos office in 1999 (© Copyright Unknown).
He is now the world's richest man and he achieved it in less than 20 years.
Britain's Visiting Tourists Will Spend £26.3 billion In 2018
A friend recently asked me to help him think up a business importing exporting. As I got to thinking, I realised his biggest advantage is where he lives, Oxford. On doing just a small amount of research, the figures show that Britain's tourism industry is huge and only getting stronger. Here's a few facts from Visit Britain:
2017 set a record for inbound tourism to the UK in terms of both visits and spend. There were 39.2 million visits to the UK in 2017, up 4.3% on 2016, with these visitors spending £24.5 billion, an 8.7% increase on 2016. The growth in visits was in line with the trend seen over the past five years. The growth in spending was the highest since 2013 and the second highest since 2006; spend per visit rose by 4.3%.
Our revised forecast for visits for the calendar year 2018 is for continued growth. We are forecasting 40.9 million visits in 2018, an increase of 4.4% on 2017. Our forecast for spending by visitors in 2018 is £26.3 billion, an increase of 7.1% on 2017.
London obviously receives the most visitors but Oxford is already 8th on the list

© Copyright VisitBritain.org
A very interesting article in The Guardian gave interesting statistics on the amount of Chinese tourists that are now travelling the globe and the UK.
The Back of Your Hand
£26.3 billion is more than enough to go around so why not take your slice? My friend has lived all his life in Oxford and knows it like the back of his hand. His whole network is there so rather than think too far afield I suggested he start at home. Why not create tours of Oxford with your own flare. Sure there's people doing it already but there's no market in the world that's untouched and without competition. He knows Oxford better than anyone and can take visiting tourists not just to the usual sites but his favorite places.
He can try and negotiate deals with local businesses, many of which he already knows, offering his tour groups a discount if brings them.
Home On The Range
One of the points we teach in our free import export training tips is the have a range of products. Always easier to come away with a sale if you offer a range of products opposed to just one. Our Oxford tours idea is no different, which could offer several tours to cater to different audiences:
The Pub Crawl: Who doesn't love a pub crawl. Take your guests on a tour of some of the best local pubs, try some of Britain's best beers and ale's!
Food Tasting: Tour Oxford's tea rooms, fish and chip shops, bakery's, the many places that my friend knows and loves. Ask if they will cater for a group offering smaller portions as a few hours of eating at different places means you can't eat the usual full size plate.
Movie Sets: There's many movies and series that have been filmed in part in Oxford, running a tour visiting these and giving some local insight is something tourists love to see.
A Captive Audience
Once the tour group is in front of you, there's a captive audience. Personality will make a difference so interjecting this would make the tour more enjoyable, interact with the group and this builds levels of trust. Building on trust then look to sell products to the group. We all love a souvenir, so negotiating with local businesses that offer fine, perhaps hand made products and these can be offered to the group.
I suggested my friend also makes sure to get the groups contact email and any other details as many tourists will return to a holiday destination. They may want to take another of the tours or hear about newly created ones.
Get their feedback and make changes as that feedback suggests.
Export Britain
Perhaps another piece of the jigsaw is to then get an online ecommerce site and promote this to the same audience and export Britain around the world. See our blog post with practical advice on how to go about getting online and exporting globally, without having to have a huge budget.
Offering tours as well as fine British products online is a double income stream.
You Won't Know Until You Do It
As you can see, setting up this business really won't cost a fortune and all you're doing is taking the knowledge you have and using it to build a business. Take what interests you have and stick to what you know, this is key. Focus on one thing to start with, then grow your business organically.
Once you start to get the audience, you can market to them. The UK has some fantastic products and places to see and millions of people from around the world come here to experience it every day.
Creating your own import export business isn't rocket science, it just takes a thought and a little imagination.
Photo by Aron Van de Pol on Unsplash