(Last Updated On: 31/05/2023)
This guide intends to give you the overall information that you'll need to know and understand to start up as a freight forwarder. It's not intended to be a comprehensive guide.
As with any new import and export business venture, there's a lot to learn and understand and you'll be learning and improving your skill set as each week passes in the freight business. At the start, it can feel very overwhelming but this is completely normal. As your business plan develops and you start to understand the costs involved, everything will become clearer.
During my career I have dealt with many, many freight forwarding businesses and even setup as a freight forwarder myself, so learned much about the freight industry, shipping industry, customs clearance and supply chain.
After several years I was offered a good deal to sell my freight forwarding business and as it was a part of my business plan and exit strategy, I sold it.
Start up as a small business and you'll find if you do things the right way, business grows, you'll handle different types of freight, you'll gain more and more knowledge and more control as be able to compete with other freight forwarders.
With that in mind, let's get started. We're going to address the following points:
How To Start a Freight Forwarding Business:
Setup Your Business: Limited Company or Self Employed?
Know the Tools of the Trade
Have an Good Knowledge of Export Documentation
Understand Freight Rates
Understand Incoterms 2020
Use Third Parties to Reduce Costs
Understand Export Entries on CHIEF
Be Aware of the Skills Required
Starting Freight Forwarding Businesses – On YouTube
The video below explains the the same content as below for those that prefer video:
Business Setup: Limited Company or Self Employed?
The first step to take is to decide how to structure any new freight forwarding businesses. To be clear, we are not experts in company formation and we can't offer any advice on this, it's best to speak to a qualified accountant and discuss your own personal situation.
There are pros and cons to each and we can only give you some of the basics, just to give you a very general idea.
Startup as Self Employed
One of the most important points to be aware of and understand as a self employed individual in freight forwarding, is that being self-employed means that you could be held responsible and personally liable for your company's debts, so your personal assets are at risk. If you run into problems with your company finances, assess such as your house could be seized in order to cover the debts.
This is of course the worst case scenario but something that's very important and must be understood and carefully considered.
As a limited company, you have limited liability which protects your personal assets. Your company assets and finances are completely separate from your personal.
You also cannot expense your salary whereas with a limited company you can, meaning any expenses you have as a business, you can offset against profits, reducing your tax liability.
Advantages are that you can pay yourself with minimal paperwork and you don't have to adhere to the strict rules, upkeep of admin and legal obligations of a limited company.
If your income is more than £1,000, you'll need to register with HMRC and fill in a Self Assessment Tax Return each year.
Startup as a Limited Company
As mentioned above, as a limited company, your personal liability is protected from any company debts and company finance.
As your freight forwarding business incurs expenses you can claim these in your yearly accounts which help to offset and reduce profits, meaning your tax bill will hopefully be less.
Having a limited company does however mean you have to adhere to certain laws and strict regulations on how the company is run, file accounts each year and make sure all your admin and paperwork is kept in good order.
Another important point, in either case, if your turnover is more than £85,000 per year, you will need to register for VAT.
We strongly recommend that you discuss your situation with an accountant to understand the advantages and disadvantages to you personally.
FREE Import Export Training
Learn how to start your own import export business.
Always Minimise Your Startup Costs
When you start a freight forwarding business, keeping your start up costs as low as possible and knowing the tools of the trade are absolutely key to your success.
Your business idea is one thing, you may dream of plush offices, an expensive ultra-secure warehousing facility, your logo on the side of a fleet of trucks but the reality is such a business with this business models and huge start up costs is very likely to fail.
Remember, a freight forwarder sometimes has to operate on very small margins. You must be able to withstand the freight industry going through tough business cycles, which of course does happen.
We'll come back to the subject of starting a freight forwarding business using third-parties at the end of this blog so read on.
Know The Important Tools of the Trade
So, let's imagine you've setup your freight forwarding business and received your first lead.
As an example, let's assume you get a call from a client that wants to move a full container load (FCL) from Mobassa, Kenya to Southampton in the UK and contacts your for a quote.
What do you do next?
Lloyds Loading List
For these cases, thankfully we have Lloyds Loading List. Lloyds Loading List has been around for longer than I have if you can believe that! It used to be a book that listed all the voyages of vessels around the world, their port of origin and port of destination.
Of course now it's online and you can quickly search and find shipping lines that will sail the route you require. Using our example, from Mombassa to Southampton we see: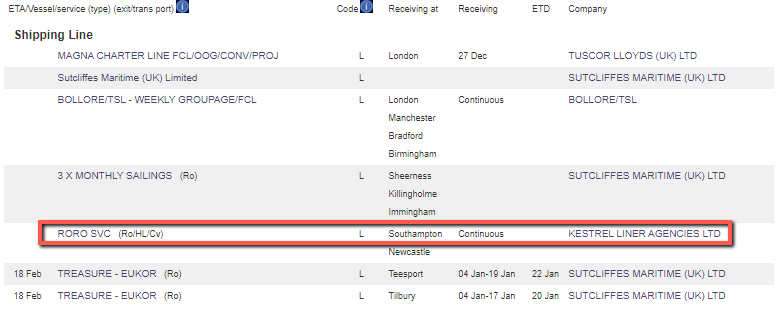 We can see that Kestrel Liner Agencies LTD trade this route so we can contact them for a quote.
I believe you can subscribe to Lloyds Loading list and you'll receive weekly hard copies of their publication, providing you with sailing schedules, and a comprehensive export directory.
A must if you're serious about starting a freight forwarding business.
Croners Reference Book for Exporters
Aside from knowing the sailing routes for vessels, you're also going to need to know what documentation is required for cargo. Croners Reference Book is what it was called in my days as a freight forwarder but it's become Croner-i and like everything else, moved online.
Croner-i will tell you what documentation you'll need for the cargo you're moving from the port of origin to the port of destination, which will save you a lot of time indeed.
Croner-i has been very helpful in offering ABTS® readers a free "lite" account which you can setup here. If you decide to subscribe you'll have access to their full range of data and information which I would certainly consider as part of setting up a freight forwarding business.
A Good Solid Knowledge of Export Documentation
This may be stating the obvious but a very good knowledge and understanding of export documentation and procedure is not just important but it's vital if you have any chance of starting your own successful freight forwarding business.
We're not going to get into the details of the documentation here as we have written several other blogs and posted other YouTube videos on various export documentation but please know that at a minimum, you'll need to know about: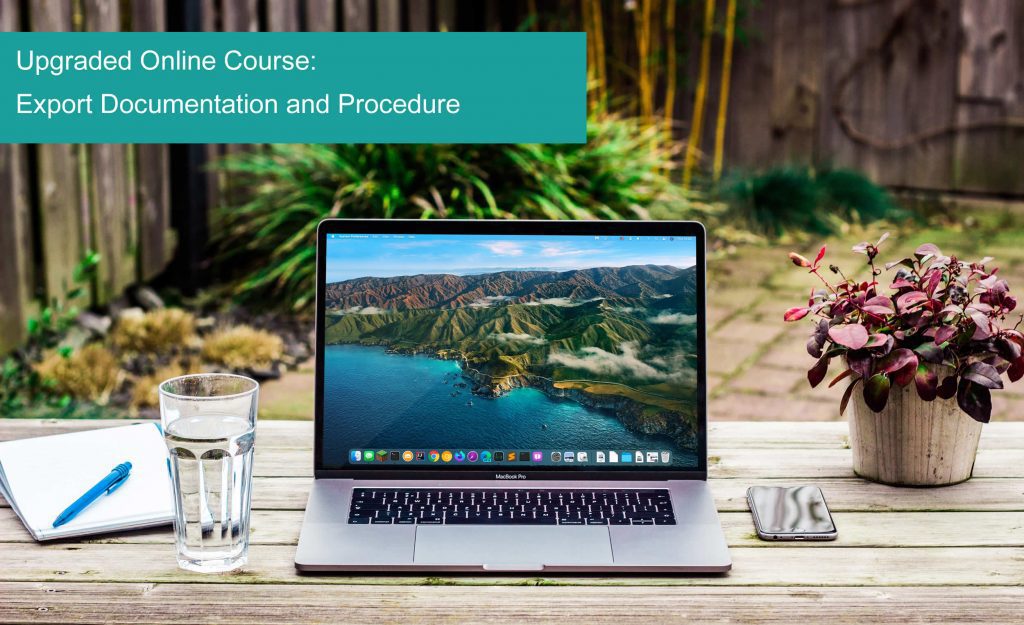 To really gain the practical knowledge and understanding required of export documentation and procedure, we offer an online course teaching you exactly what you need to know. Click here for the full syllabus.
Understand Your Freight Rates
Freight rates isn't something that is usually thought of as far as specialised knowledge when it comes to starting a freight forwarding business because it's assumed that when you ask for a freight rate from a shipping line or airline, you'll get a quote as you would any other type of industry.
Shipping freight is different. When you ask a shipping line for a sea freight rate, they may first ask, "FCL or LCL?". What they're asking is are you shipping a "Full Container Load" or "Less than a Container Load"? So in the very first instance, you've got to understand this.
Next, they may ask you what are the dimensions of the cargo, if less than a container load. That's no problem and you give the dimensions as needed.
The reply you'll get is something similar to, "$59 Weight Measure". You've obviously got to know what to do with this and how to calculate it into a quotation for your client. Your shipping line may well charge you "BAF" and "CAF" too, you must be familiar with this.
It's beyond the scope again of this blog to delve into the details of freight rates but if you want to know more about these terms and gain a basic understanding of freight rates, check out our video below:
Make Sure You Understand Incoterms 2020
Incoterms 2020 are the cornerstone of shipping and freight forwarders MUST understand these terms. Without understanding what Incoterms 2020 are and how to use them, you'll fall at the first hurdle. We've written an extensive blog on the subject so again, we won't go into much detail here other than to explain that Incoterms are there to make it absolutely clear to the buyer and seller, where each party's responsibility lies as far as the place of delivery, costs and risk.
There are 11 Incoterms 2020, think of them as code words for shipping. You NEED to know what they mean and understand how to use them.
One of your first startup costs should be a small investment in Incoterms 2020 which you can by from the International Chamber of Commerce.
For more, check out our blog post on Incoterms 2020 or watch the video below:
Use Third Parties Whenever You Can
Starting your own business is exciting. It's quite natural to want to have everything perfect, your logo, your brand, the right warehouse, trucks with your shiny new logo on the side. Many people when they start their own venture go down the road of massive outlay, fancy new offices with the latest computers and latest iPhone models.
DO NOT DO THIS! When starting your own business and indeed, at all times, KEEP YOUR COSTS AS LOW AS POSSIBLE.
If your current computer works, you can get email, have an internet connection and can create spreadsheets, keep it as it is. Don't accumulate extra costs. If your phone makes calls, you can answer emails and texts and do what you need to do, do not upgrade it.
Do not go out and get into a lease agreement for a warehouse, until you need it. Enlisting the aid of third parties. Rent some space in a third party warehouse for a fixed amount each month. Find out of you can expand the space should you need more and when you start to outgrow this, then look to rent your own warehouse, when you have an established client base and cash flow to fund it.
Use third party haulage companies to move cargo locally, before you go and buy your own vehicles. Make sure you have enough demand, cash flow and that you're profitable, before any large outlay of cash or investment.
Always keep your costs to a minimum. They are the key differences between successful freight forwarders and freight forwarders that fail.
The Two Skills You're Going To Need
There are two major skills required that you'll need for starting and running your own successful freight forwarding business.
Negotiating skills and presentation skill.
Negotiating really is a certain type of skill that improves over time and the more you practice. It's a major part of business in general but running a freight business, you'll be negotiating with customers, with shipping lines, with airlines, warehouses and trucking companies.
You've got to know how to negotiate and understand how to get the best deal possible, which may not actually always be what you're demanding. There's more to consider for successful negotiations. Our negotiating skills blog reveals more so check it out.
Presentation skills are needed as you'll be presenting to companies and need to explain to them in a clear and concise way, why they should entrust their cargo to you.
You'll need to make sure you have the answers to their questions, understand freight rates, understand exactly what you can offer that company, what makes you unique and why they should work with you.
Present confidently but not arrogantly.
Bringing It All Together
That brings us to the end of this short introduction on how to start your a freight forwarding business. I hope it's useful and given you enough to think about and research.
I spent many many years in this industry, I started my a freight business many, many years ago, ran it successfully but learned many lessons along the way as if can be a very competitive market, so you have to be able to adapt.
I sold the business in the end and was rewarded financially for my efforts and if you would like to learn the best practices to run your own successful freight forwarding company, definitely consider our Export Documentation and Procedure course, where I teach you the practical lessons that you'll need to know, not just what to do but also what not to do!
Starting a freight business, shipping freight can be very rewarding and I enjoyed my years in this area of import and export and gave me a great understanding of the whole supply chain.
Take advantage and learn from my mistakes so you don't suffer the same stress and financial losses that I did. You'll have less grey hair than I do now at my age! 🙂
Start a freight business with the right knowledge and you'll have every chance of great success.
How To Get Clients For Your Freight Forwarding Business
Knowing how to get clients for any business is the million dollar question. There's no quick answer to that, it's going to take time, energy, some grit and hard work. Below is a YouTube video where I discuss some of the methods that worked for me in my career and I'm sure are still very relevant today.
---
Export Documentation and Procedure Online Course For £499
ABTS® offer an online Export Documentation and Procedure course that will teach you the practical knowledge you need to to understand and to trade successfully and confidently whilst maximising your profits when trading internationally.
Alan Bracken has over 35 years of commercial experience in logistics. He skips all the theory you'll never need to know about the supply chain but teaches you the practical side of how to move goods around the world, preempting issued, being proactive, not reactive.
We were voted Best Trade Education Provider in 2017 by Trade Finance Global and our course has been validated by the London Institute of Shipping and Transport.
Check out our reviews on TrustPilot to see just how our courses have benefited our students.