(Last Updated On: 05/07/2022)
A part of knowing how to export is understanding what freight forwarders are and how they can help you with international shipping and logistics transportation, as at some point you're very likely going to need to work with one.
They usually offer a range of services on behalf of importers such as warehousing, customs services, cargo insurance and of course sea or air freight.
Definition of a Freight Forwarder
A freight forwarder is defined as a company that receives cargo and transports that cargo on behalf of someone else. This is usually achieved by shipping, air or road.
3 Most Common Questions
Here are the three main questions we'll answer:
What is the role of freight forwarders?
How do I select freight forwarders?
How do I find freight forwarders?
I ran my own freight forwarding company for many years, which I eventually sold so I'm well qualified to answer all three of these questions and I hope it will become clear to you the advantages are in your supply chain.
What Does A Freight Forwarder Actually Do?
Checkout a recording of our YouTube Live session where we discuss what a freight forwarder does and the role of a clearing agent:
Exporting larger loads is a multi-step process and that involves knowing how to find the most competitive freight rates, booking that freight for shipping, having to complete all the export documentation which can include an export entry, Certificate of Origin and Bill of Lading to name a few.
Gaining the knowledge for this is wise, so that you can understand, manage and control every step of the process yourself and therefore know firsthand where problems may lie in your export process and fix them in order to constantly streamline that process and become as efficient as possible. ABTS® offers online import export training courses that will do exactly that; help you streamline your export process and get your cargo shipment through customs clearance and to it's final destination.
However, if you don't have the time to study as you're juggling what may feel like a million things, there's freight forwarding companies. They'll take care of all these tasks for you and will likely offer other services such as export packing, warehousing and local transport. They become your adviser and hopefully someone you can trust.
What Can I Ask A Freight Forwarder?
In short, anything you want about freight and how to get your goods from your warehouse to your destination. For example, if you need to get your products to China, you may want to ask them:
When is the next ocean freight vessel operating to Shanghai?
How much is it to ship a FCL to Shanghai?
What is the air freight rate for 40 kilos to Hong Kong?
A phone call or email may answer many of your questions and you'll likely get some free advice as you only pay when they undertake an export consignment for you and send you the invoice. As you can see, the advantage of using freight forwarders is they are a one stop shop and will take care of your international freight needs for you. But as you know, when there's an advantage, there's many times, a disadvantage.
You can also ask a freight forward what documents are required for customs clearance and they will be able to tell you what you'll need. This is something that is vital to know for international freight and a big benefit to using a freight forwarder.
Professional Freight Forwarders
The big disadvantage of completely relying on freight forwarders for all your international trade needs is that, like in any industry, some can take advantage of the fact that you have little or no knowledge of exporting and charge you accordingly. You didn't think they work for free did you?
I stress only SOME, there's bad eggs in every industry and the vast majority of forwarders are very professional and eager to help you. It goes without saying that a freight forwarder has to make a profit but that's very different from ripping you off.
My advice is, by all means use the services of a freight forwarder BUT understand export procedures yourself so you have a working knowledge of freight rate structures and the real cost of producing export documentation. Once you know these facts you can work successfully with your freight forwarder and be sure you're not being taken advantage of and working towards a solid long-term, professional relationship.
Know Your Freight Rates
Not knowing your costs has real consequences. We had an exporter that joined our training course in order to gain the knowledge he needed to understand his export process from start to finish. Until then, he had given all his exports to a freight forwarder and had never known what questions to ask or what the real-world cost was of exporting his goods. He had no understanding of freight charges.
He had worked so hard with suppliers, negotiated deals with them, found a market for his products, got the deals done to sell but at the last hurdle, he was taken advantage of.
As he had little to zero knowledge of transportation costs, freight rates or customs services and blindly trusted them, this particular forwarder could see his lack of knowledge and as a result charged £7.06 per Kilo while a commercial rate was £2.60 per kilo. This ended up costing him thousands in extra fees that he didn't need to pay and would have obviously given him a much, much healthier profit margin had he had that knowledge.
After completing our course, he fixed that problem and went on to build a very successful business.
The point of this example is to emphasise that it's very wise to have a working knowledge of exporting, not to insinuate that all companies will overcharge the innocent. As I mentioned, I was a successful forwarder for many years without overcharging my clients. All my colleagues in this business gave a good service for a fair price.
Finding a Freight Forwarding Company
Finding a company that's right for you is as easy as searching for one on Google. Finding one that's going to work well for you, is slightly different.
Follow this very simple rule: make sure that the freight forwarder can give you the service YOU require not what they WANT to give you.
For example, if a freight forwarder is strong in sea and airfreight to South America and Australia and that they can offer you very competitive rates to these destinations but your market is the Middle East, this is not a well fitting partnership. This may sound obvious but many times I've seen savvy exporters use suppliers in one way or another that aren't a good fit for them, just because a friend uses them or they have a good name in a certain area.
What To Ask Your Freight Forwarder
Before agreeing any business or contracts with a freight forwarder, you should make out a wish list with the level of service YOU require from a them. Here is an example:
Can you offer UK collection from my local suppliers (here name your suppliers address)? If so please quote.
Can you offer competitive air freight rates from the UK to (your destination)? If so please quote up to 1000 kgs.
Can you offer competitive rates FCL/LCL rates to (your destination)? If so please quote. (This is where a knowledge of Incoterms 2010 is needed).
Please quote to prepare the following documentation: Bills of Lading, Certificates of Origin.
Can you offer local warehousing and export packing? Please quote.
Please name the contact person responsible for servicing my account.
What are your terms of payment?
Please send me a copy of your trading terms and conditions.
The above is just indicative of questions you should ask in order to get the service YOU require for your particular exports.
Finding Freight Forwarders
This is an easy answer thanks to Google. Just type in "freight forwarding in (here mention you town or city)" and you will be swamped with local contacts.
You can also check the BIFA or the International Freight Association website and they will supply you with a list of all Freight Forwarders who are members.
If you want to go it alone or use the services of a freight forwarder, either way you need to understand the business of exporting so take the time to get yourself up to speed. You won't regret it and it really will streamline your business and add to your profit margin.
Quick Guide
Hopefully our handy guide will help you.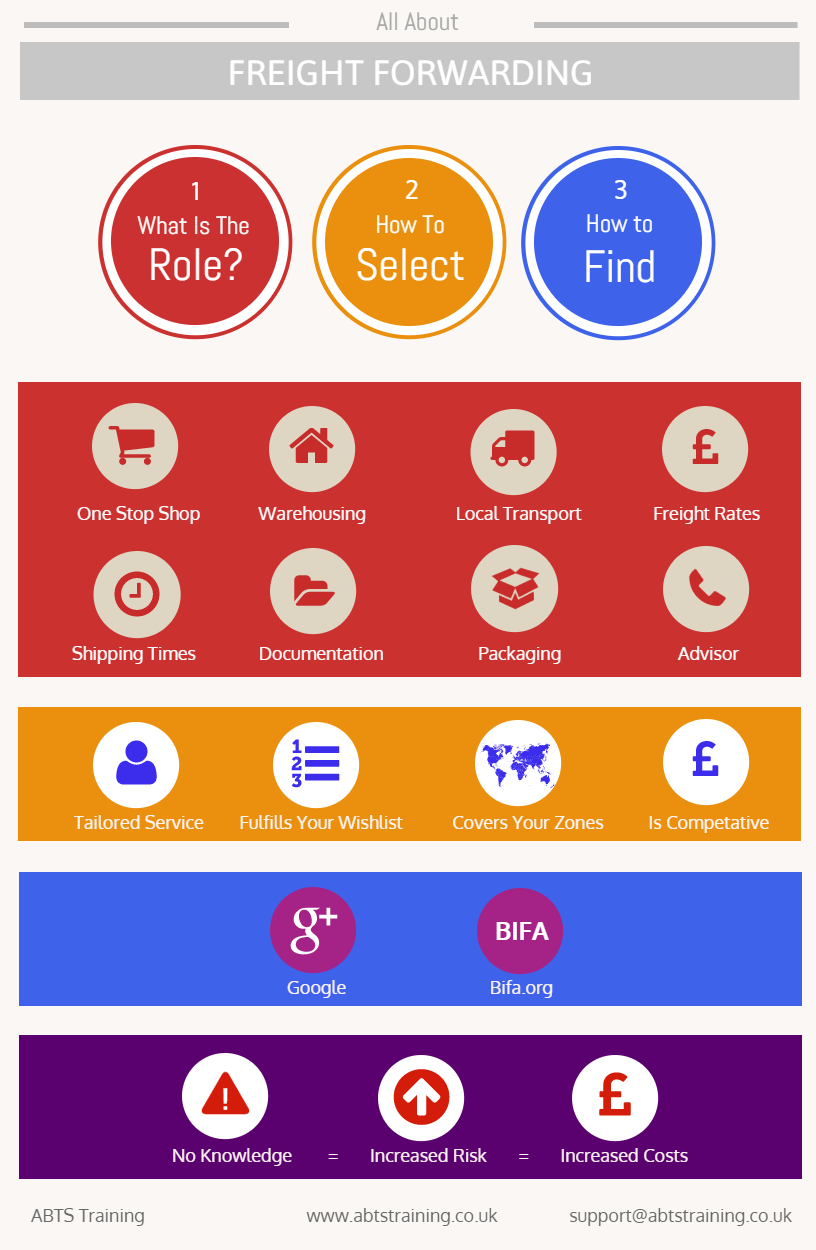 To embed this infographic, copy and paste the code below:
Start Your Own Freight Forwarding Business
I setup up my own successful freight forwarding company and eventually sold it after many years. There's a wealth of knowledge that I accumulated in that time and I became aware of all the pitfalls and problems so can advise on the best way to not only setup the business but also how to run it efficiently and profitably.
Check out my short videos on the basics that you'll need to setup you're own business.