(Last Updated On: 31/05/2023)
New Online Course Now Available For 2023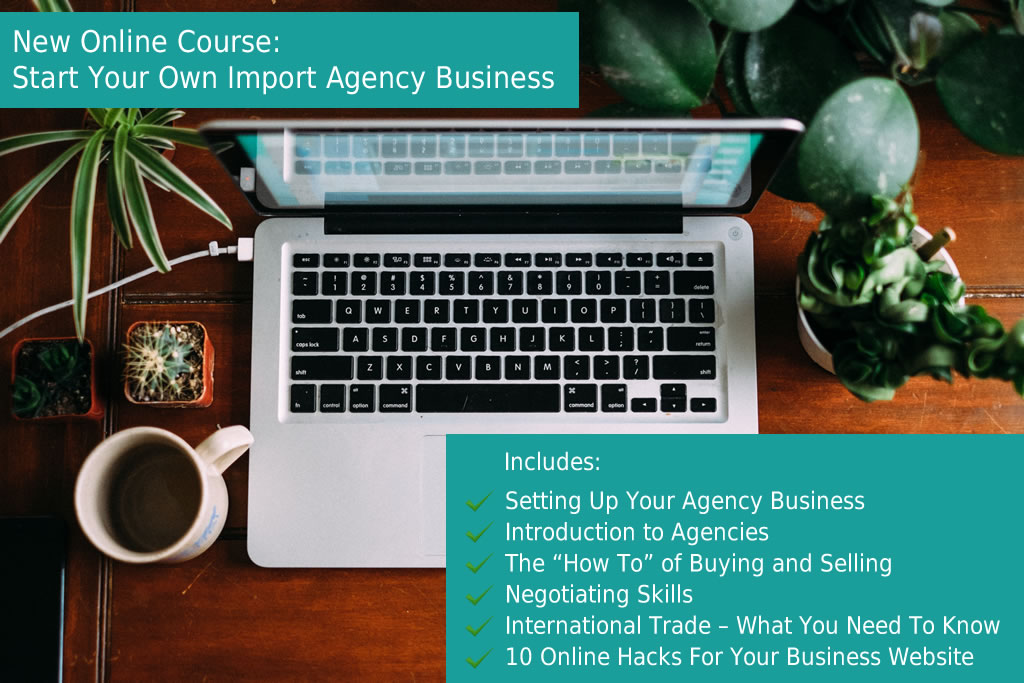 Our new "Start Your Own Import Agency Business" course teaches you practical lessons you need to know as an agent. Developed by Alan Bracken, with over 35+ years of experience in international trade.
Trading as an agent himself for many years, Alan teaches you how to be a successful agent in the real-world. He explains how to control costs and maximise profitability as well as how to choose the best type of agency for you, how to negotiate and sell and move your products.
Course cost is just £549, enroll now.
---
When looking to become an import export agent, it's sold to many as a quick way to make money without having to do much work. Link up buyers and sellers, negotiate a deal and get paid, this is how easy some think it is. The reality is somewhat different and I'm going to give you the whole picture. Here's what we're going to cover.
How To Become An Import Export Agent:
Find A Product You Want To Represent
Build a Range of Products
Make Sure Your Product Knowledge is 100%
Do Your Competitor Research
Make Sure You're Aware of Any Safety Regulations
Establish What Territory You Want To Represent (Local, National or International)
Understand Circumvention Clauses
Make Sure You Get Samples
Make Sure You Have Promotional Material
Know What Commission Rate You Want Going Into Negotiations
Become an Import Export Agent – The Basics
The following video explains the basics of how to become a SUCCESSFULL import export agent with down to earth, real-world advice.
Alan Bracken addresses what you need to know if you're thinking about becoming an export agent by setting realistic expectations. With over 35 years of experience in international trade, Alan gives his advice on what you need to know and consider before diving into setting up an agency:
Should you setup as a limited company or self employed?
How much time will you need to dedicated to your new business?
Identify your start up costs.
Identify your products
The importance of market research
Before we get into our top 10 tips, let me give you a little heads up about the the reality of your new import export business.
Two years ago I was in Dubai lecturing at a local college and presenting our own import export training course at seminars and to various local trading companies.
I noticed in the hotel lobby, an advertisement for a course entitled "Become a Successful Import Export Agent". The title caught my attention and out of professional curiosity I purchased a ticket for $15.00. The course was a half day course, from 9 am t to 2 PM with a 15 minute coffee break.
There were four very smartly dressed people, presenting the meeting and we were told in rapid succession by all four presenters there was a fortune to be made as an import export agent, with little or no financial investment and minimum knowledge of International trade. We were then told that once we enrolled in the course, we were on our way to success. As one speaker put it " The sooner you start the sooner you'll be rich".
Each of the four presenters in turn, told us that they were originally working dead end jobs making money for their boss, living the usual rat race, living week to week, hand to mouth.
Import Export Agents Needed
By becoming import export agents, this gave them the financial freedom and lifestyle independence to do whatever they wanted. All that was missing was the photos of each of them with a Ferrari. As you may imagine, this went down very well with most of the paying audience. Who doesn't love the idea of making great money with no financial investment, little risk and you don't have to study!
We were told it was so straight forward, a child could do it. All that was involved was find a buyer and seller, introduce them to each other and "hey presto" we get a big fat commission for little or no work. For every buyer, there's a seller and our job is just to match them and then wait for a chunk of money to hit our bank account. Lovely!
An Import Export Agent Doesn't Need Money
However…even though there was little to zero financial outlay, virtually no risk to setup our new wonder business there was one small initial outlay that we would have to pay up for. You've probably guessed it, $800 for their course that would teach us the golden secrets of how to get rich quick as an import export agent.
To prove just how simple this process was, we were given a photo copied sheet of paper with a list of names who were apparently "buyers", of course with all their contact details blanked out, with a corresponding list of sellers and the products they have to sell but again with their contact details omitted.
Once we paid the $800 fee, we would get the full list of names and addresses and even an example letter that we can copy introducing our buyers to our sellers. What an offer, all the work is done for us, we just have to copy a few letters and send them off and we should be in business, ready for our bank accounts to fill up.
I had visions of myself as a dragon on Dragon's Den, with stacks of cash on my kitchen table as I eat my breakfast each morning, contemplating what I'm going to buy next.
The final clincher was that by paying out our hard earned $800, we would also receive a fabulous "HOT TIPS" guide! Although we were not enlightened as to what any of these hot tips may be.
The audience at this point was not a rush to join up but these four presenters worked their charm for the next couple of hours or so, telling us that it was the best investment they would ever make and if they didn't do it today, they will miss out forever.
Can An Import Export Agent Be Cut Out?
In an effort to try and shed some light on how this get rich quick scheme may not be quite so easy, I offered a question, "How can I be sure the buyer and seller don't just cut me out after the first deal and deal directly with one and other?" In a dismissive tone, the presenter replied, "This very seldom happens, so don't worry", then moved on to the next question. Fantastic, let's pay the $800 then as it hardly ever happens.
At this point after several hours of being told how easy life as an import export agent is and the riches it will produce, the sentiment of the audience had changed and they were on board. Who doesn't love the idea of making an "easy buck" as they say.
At 2pm the presenters let us know that this was their last seminar in Dubai for another year so, just for us, they would make a special offer of $600.00 to enroll in this super duper life changing course. I managed to leave the room soon after 2pm but as I left there was a line of people signing up for the "special offer", eagerly anticipating all of the profit they were about to make.
Import Export Agent Training – Realistic Expectations and Honesty
I felt for those people queuing up to make their fortune but first having to spend $600 of their hard earned money. Not because they're signing up to the course itself or because being an import export agent can't bring you excellent profits but because their expectations had been mismanaged.
If you want to become an import export agent, it will take some financial investment, it will take time and effort to build relationships with buyers and sellers, you'll need to learn to negotiate with them, you'll have to study and understand the implications of acting as a stockist or commission agent and you absolutely must understand in its totality how to trade on an International level.
You will encounter problems, as you will with any business and you must know how to solve these problems quickly and efficiently. You must know where your risks lie and once you grasp these concepts, then you can run a profitable business as an import export agent with a healthy profit margin.
Spending money on a course that promises you quick riches is probably never going to be a good thing. Sure, spend money on courses and educate yourself but also have realistic expectations. Any business you setup is going to take some elbow grease, some investment, study and determination. There is no way to get rich quickly or easily…or we'd all be doing it.
By the way, the correct answer to stopping a buyer and a seller from cutting you out as the commission agent is to include a "circumvention clause" in your contract, which is a fundamental clause in this sort of situation.
FREE Import Export Training
Learn how to start your own import export business.
Become An Import Export Agent The Right Way
Firstly, becoming a successful import export agent is what we need to be focused on and for this become a reality, like anything in life, it's going to take some hard work, time and dedication. As we all know, any new career or skill that we want to learn is always going to take effort and some form of dedication. Nothing worth pursuing comes easy or for free. It's unfortunately not as simple as working from home for a few hours each evening.
Product knowledge is paramount, hard work and understanding international trade are all key parts of making a success of becoming an import export agent. Honing your negotiation skills, understanding international methods of payments and an understanding of international contract law are very wise.
Two Types of Import Agent
The good news is, there's always companies looking for import export agents. Below are the import export agent job description for the two types of role you can opt for. You'll have to decide which one is appropriate for you with the products that you decide to represent.
Commission Agent
A commission agent introduces a buyer to a seller and receives a commission for sealing the deal and continues to receive a commission for any future sales from that same deal. As a commission agent you'll be dealing with buyers who want the product but likely don't have much knowledge of international trade, which Incoterm to purchase under, best method of payment nor custom clearance procedures. This is where your knowledge becomes invaluable and you'll be able to hold their hand through to whole import export process and this is where you earn your import export agent commission with confidence, professionalism and the best possible terms for you.
Stockist Agent
As a stockist agent, you will actually buy the goods or products yourself, keep and store those goods, find buyers yourself and sell them to anyone you want. You could sell regionally, nationally or internationally. To become a stockist agent you must have an in depth understanding of international trade and the entire import export process from start to finish.
As an example, we had a student who completed our online course and has begun importing very modern home security cameras with motion detectors that record to the cloud. These cameras are imported from Hong Kong where they are manufactured and being sold online and to various retail shops throughout the UK. This young entrepreneur now has a small team of sales reps that pick up stock and sell throughout the UK for him once a month.
10 Golden Tips To Become An Import Export Agent
So, here's our top 10 tips to becoming a successful import export agent:
Step 1: Search For A Product You Want To Represent
Establishing what you want to sell, finding a supplier, manufacturer or a source of products is obviously where you need to start in order to become broker for them.
One effective method of sourcing is by contacting the embassy of the country you wish to source from. For example, if you are sourcing products in China, contact the commercial section of the Chinese Embassy in your country and ask for a list of Chinese manufacturers and suppliers of the product you want to represent. This is an effective way to source products internationally.
Another effective way to source products is to contact overseas trade fairs and ask for a list of companies exhibiting at the trade fair. For example, if you were looking to become an agent for children's clothing, try Google'ing "children's clothing trade fairs in China". You'll be able to put together a list of dates, locations and contacts. If possible, visit the trade fairs that you can and get talking to people and start to build a network.
If you can't attend the trade fairs, contact the organiser and ask for a contact a list of all exhibitors which they are usually more than willing to give you. Then you have a pretty comprehensive list of manufacturers you can contact and add to your network.
I have personally used the methods over the years and they have thankfully brought me some great results.
Step 2: A Range of Products
Develop a range of products from either your chosen supplier or consider finding a range products that fit well together, from multiple suppliers. The big advantage to this strategy is when you are in front of a potential client, pitching your main product, it can convince them to buy from you if you can back it up with a range as they may see more opportunity to sell the range, therefore earn more profit. The other advantage is, should your potential client not be interested in your main product, you may find that they are interested in another in your range. By having a range of products, you're increasing your chances of a sale and expanding your sales network.
Step 3: Product Knowledge
Do you have sufficient knowledge of your product? You're not necessarily expected to know every single detail about your products and be able to answer every question but you do need to have a good understanding of the product, how it's manufactured, cost of production, wholesale price, retail price, profit margins etc.
You must be able to pitch your product with confidence and a depth of knowledge. If you then don't know an answer to a specific question, you can always reply "I'm not 100% sure of the answer, so I'd like to check that and come back to you." You can then make sure to get the correct answer and answer the question in a follow up email the next day, maintaining contact and dialogue.
However, this only works if you're unsure of the odd question or two. You won't be able to give this answer for all the questions, or you'll look completely unqualified and make your products look weak.
Establish what product education and knowledge you're going to receive. Training videos, webinars, video calls etc. are all great ways to get yourself up to speed.
Step 4. Research, Research, Research.
Know your market – this is so important.
Who else is importing and wholesaling your product(s)?
What's the wholesale price of your competitors?
Who's retailing your product(s)?
What is your product(s) retail price?
What can you do to make your pitch better or different from your competitors?
How can you make your service better that your competitors?
With this basic information, as yourself, "can I compete as a stockist or commission agent on price and delivery?".
Run your numbers, do the numbers add up and is there a profit margin that you can work with?
Find your niche, find something that you can specialise in, become the leader, the expert, in that area and build a solid foundation from here.
Step 5: Safety Regulations
This is an important step that many overlook and can be very costly if not considered. Does your products comply with health and safety regulations in the country that you're selling?
Imagine finding your products, pitching to clients, negotiating a deal and importing your products to find out they're not compatible with health and safety regulations, can't be sold and are held up at customs. This will likely add substantial cost and untold stress and there's a decent chance that your profits will be wiped out or worse, you'll make a loss on the deal.
Do not neglect this step, it's not worth it.
Step 6: Mark Your Territory
Establish what territory you want to represent, perhaps become a national import agent UK or maybe International. It depends on what your goals are, what capital you have and to a large extent, how big your network is.
If you're starting out, have limited capital and a small network, just work within your region. As you grow in all aspects you could start to look at a national network. Take it a step at a time but you may be surprised how fast your network grows.
Step 7: Circumvention Clause
Make sure a circumvention clause is included in your contract, which is a legal means of stopping the buyer or seller excluding you from future sales as the commission agent.
Step 8: Samples
You'll likely need samples to promote and demo in your pitches and meetings. It's much harder to sell if you don't have a working version of your products to demo. So, establish if your supplier will provide samples to you free of charge, or at what cost.
Step 9: Promotion Material
What promotional material, if any, does your supplier have? Product images that can be emailed to you so you can add them to your website and advertise on Facebook. Be sure these images are clear, professional and represent the product and your brand well.
Videos are an effective way to show your product if professionally produced so find out if there are any available to you.
Product brochures are good to leave with potential clients after a meeting, with a breakdown of costs, prices and profit margins.
Step 10: Your Commission
Lastly and perhaps most importantly, what rate of commission will you negotiate? Your commission obviously has to make it worthwhile to you so it's important that you know all your costs and what your bottom line is. This is where knowing how to export is so important as if you get this part wrong, it can obliterate your profit margin.
---
Import Export Training Course For £549
Learn how to become a successful import export agent by enrolling in our brand new course. Check out the course syllabus, a course that streamlines what you'll need to know to be successful using practical, real-world knowledge, for just £549.
Our courses teach you the practical knowledge you'll need to know to trade successfully, confidently whilst maximising your profits. Taught by Alan Bracken, with 35+ years of commercial experience in logistics, he skips all the theory you'll never need to know but teaches you the practical side of how to move your goods around the world.
We were voted Best Trade Education Provider in 2017 by Trade Finance Global and our course has been validated by the London Institute of Shipping and Transport.
Check out our reviews on TrustPilot to see just how our courses have benefited our students.